October is Pink around On Board Organics. With much of our clients being women, we like to go pink the month of October and remind men and women alike of the significance of self breast exams and if your over the age of 40, or find something unusual we encourage you to seek medical advice. Breast cancer is something that is no longer kept quiet, people are becoming more aware of the signs and symptoms of this heart-wrenching disease. But prevention, and early detection is essential to a positive outcome. This is not just a lady issue, but effects mankind. So...
---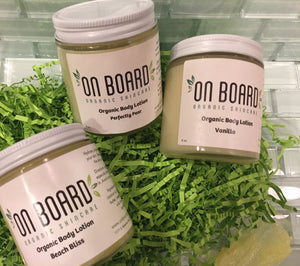 Thinking about this blog for March and all it holds made me realize it's one of my favorite months. From days past, spring break, traveling to the NCAA tournament, St. Patrick's Day and the last ski trip of the season. Many fun and exciting memories. March also marks beginning of spring to me, and the fresh floral blooms emerging from the last of the winters snow. So fresh, crisp and clean. Many flowers belong to March, but irises are amongst the most popular. They symbolize spring so beautifully, with passion, purity, virtue, prosperity, abundance and honors the ones who have...
---
There is something to having a slightly sunkissed summer glow, and yet we are still in February. The cold winter months can be torture on your skin, with wind, snow, rain and yes the sun. Chapped lips and cheeks, increased acne and lack of shimmer in your skin is familiar, than your in luck; this months blog is all about treatment and prevention of our winter skin. Yes, I am saying that like animals we have winter skin which requires some changes from your summer skincare routine. Which means switching from alcohol based cleaners to a moisturizing based cleanser, being cream...
---
January is here, and 2017 is in full swing. So how are you doing with your New Years resolutions? Or did you bother to set goals for self growth this year?  As you know; weight loss is by far the biggest goal people set. But I encourage all of you to set attainable goals. Our new year resolution for On Board is to do a blog post each month with helpful recipes for great skin and overall healthy lifestyle.  We can be singularly focused on what we put on our face to prevent breakouts, what we eat to lose weight,...
---

Black Friday, Cyber Monday, Hanukkah, Christmas.....THE HOLIDAY SHOPPING SEASON has arrived!  And while sales are helpful, it's easy to get stuck in a shopping rut especially if you're shopping for the person who has it all. That's why we LOVE gift guides. What better way to get new ideas and find unique gifts than having a trusted beauty or travel editor curate them for you?  This year, our first holiday season in business, we have been honored to be included in Try Belle Magazine's gift guide featuring ten unique holiday ideas. As their site says, "These perfect gifts were handpicked by...